Sean T .
"Awesome little pedal and well worth the wait. I can't tell exactly what it's doing but it has that special sauce that adds a real something to your town that you miss when it's turned off. It just sounds more REAL now! Thank you so much for making this pedal and offering it to the public. It's awesome!"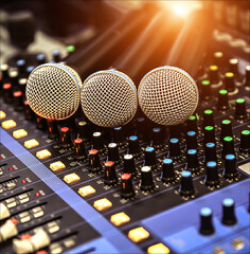 Jamey R.

"Awesome product, crazy fast shipment"

Richard S.

"Fantastic - wasn't quite sure if there was going to be a level of hype with this but it really does do something special. If you are thinking about it get one."

Rob F.

"Excellent communication, quick shipping, awesome Storm pedal!"

Edward R.

"I have a signed and numbered tower,so,my expectations were high. This pedal did not disappoint. I dialed it in by ear and looked at my tower, it was the same exact setting. That says a lot about the quality of this unit. Thanks"

Mike H.

"Amazing product. Wow."

Brett O.

"Amazing pedal! It's a keeper. Thanks. A+"

Joe S.

"Prompt shipping, great communication. Awesome seller and great product."

Ricky V.

"Fast shipment ! Top seller !!!"

Billy P.

"Great company with awesome customer service!!! A++++"

Paul R.

"Excellent service, product is unbelievable value for money it's just what I'm looking for. Thank you"

Rocky C.

"SoloDallas is one of my favorite companies nowadays. Their commitment to great rock n' roll tone is rarely surpassed, and their customer service is wonderful. This boost RIPS!"

Jonathan G.

"Received quickly and immediately heard what everyone raves about. It truly does just add that extra something and creates more harmonics and a richness to your tone. GET ONE!"

Daniel E.

"Thanks, SoloDallas, for the cool sounding pedal and the quick-to-ship service: much appreciated! This thing sounds awesome!"

Charles D.

"Excellent seller, terrific price, quick shipping, awesome pedal, very happy!"

Colton M.

"Fast shipping, great packaging, and excellent craftsmanship. This company is amazing. Can't recommend these guys well enough."

Siddharth M.

A very versatile pedal retains core tone while enhancing it. There's something going on where I don't ever want to switch it off. Tightens bass while adding sizzle and definition. High notes have punch and sustain to quote a friend but surprisingly keep the core tone intact, this is one talented pedal....By tomorrow I'll wonder how I ever did without it. This is an always-on pedal.

David L

This pedal is clearly a game-changer. Dial it in right & leave it on all the time. Great quality too.

Sean Harvey

I use the SoloDallas Tower. My lead player uses the Storm. We won't go on stage without them. Brilliant products and brilliant people behind SoloDallas!

RJ Silvas

Very satisfied customer here. I purchased the Schaffer Replica (pedal version). Ordering and payment were easy. Product arrived within less than two weeks.

Slay805

The TSR is just the best invention in last 20 years hands down seasoned players will go just WOW with the tones you can get with it.... Awesome work all at SoloDallas unit #42 Gold is the S**T!!!

Tor Ivar Johansen - Dirty Deeds

Last night i played a gig in Trondheim with my band Dirty Deeds! I didnt tell the sound Engineer about my new pedal and after the show he asked what kind of dynamite amp I played on! The sound was way back AC/DC 80 style and God im so pleased!!! Thank you.

Morgan

I just wanted to say "thank you" for this awesome pedal. This is one of the few products that I've bought has lived up to, and even surpassed any hype. What a GREAT pedal !!!

Angus Young - AC/DC

Do you use any effects?
No. I just have a Schaffer-Vega wireless system. For me, it's probably the best.

Elliott Randall - Steely Dan

Here's rockin' at you, kid. I'm playing through a "Schaffer Replica" —a totally magical box invented by my long-time friend Ken Schaffer. It's a big piece of Angus' AC/DC "texture". I wasn't playing particularly loudly —it's in the box. Earthquake time!

Michael Molenda - Guitar Player Magazine

Instant Angus.

John Campbell - Lamb of God

I was hooked from the moment I first plugged in the Bass-X. This pedal gives me complete control of the sweetest bit of boost I've ever had my hands on. It has the perfect low-mid gain punch to give my tone real power without getting lost in distortion.

Tanner Erickson - Bethel Worship

The Bass-X is a fantastic second stage drive for me. It maintains great clarity and punch in the low end and the mids have a clear, powerful aggression that helps to cut through the mix. It also maintains strength when I play higher up the neck. I also love the breakup. It has tons of power while maintaining clarity and drive. It fits perfectly with what I'm going for. Highly recommended!

Rex Brown - Pantera

The SoloDallas BASS-X is one of my Fave's in my collection of 'Greatest Circuit Pedals' on my board!! I stack it towards the end of the chain for its Overall Tone! Badass-ness & Punch!! It's old school as F%+k man & a must have now!! Advisable for any style of Jams!!

Dan MacKenzie - Bethel Worship

I tried a dozen fancy things and just couldn't find what I was looking for, until I plugged in the Bass-X. It instantly filled a gap in feel and energy that my ears and fingers were craving. Donny and the SoloDallas team are building really cool and versatile products and I'm happy to have found this dope little star of a pedal. Now I just need the Tower!

Rudy Sarzo

For decades I've been trying to get the tone I had with my Shaffer-Vega wireless in the 80s playing live with Ozzy and Quiet Riot. You can hear it on the Ozzy "Speak of the Devil" and "Tribute" albums and the Quiet Riot "US Festival" DVD. Thanks to SoloDallas I finally got my tone back with the Bass-X pedal.

@davidjekyllguitar

This replaced by compressor! Still keeps my dynamics nice & level with the limiter maxed but I noticed that it responds very well to the guitar volume pots, cleaning up nicely even when stacked into an OD pedal, in a way a compressor never has for me.