MEET THE GEARCHAEOLOGISTS
The SoloDallas Team of "gearchaeologists" was formed through our mutual contributions and connections within the worldwide gear community. Though we come from different backgrounds and cultures, it was our mutual love for playing music and the pursuit of the ultimate guitar tone that brought us together. This obsessive passion and the joy of serving our fellow Tone Raiders is what drives us to seek out and recreate the lost relics of gear.
MEET THE TEAM
SoloDallas President - James Allen II
James Allen II hails from the "Home of the Blues" Chicago, Illinois. As a skilled drummer and avid music lover, he has always appreciated the relationship between quality instruments and the quality of music they produce.

James' unwavering commitment to our suppliers, production, and customers comes from his many years in hands-on corporate leadership. Over 25 years of experience in international trade has taught him to value the traditional artisan approach to business. James Allen's philosophy is simple, "Make unique products of the highest quality that turn every SoloDallas customer into a committed ambassador".
Our Founder - Fil Olivieri
Fil Olivieri's personal pursuit of tone from his home in Italy led him to discover many well-kept secrets within the music industry.

Fil's eclectic knowledge of vintage guitars, amplifiers, effects, and studio techniques is why we affectionately refer to him as the original "Tone Raider". Energetic and eccentric, he loves nothing more than to share his discoveries with others. This desire drove Fil to start the original SoloDallas forum and create one of the first YouTube channels strictly dedicated to guitar tone.

Fil is recognized by many within the gear community as the guy that plays and sounds like Angus Young. During his journey he also had the pleasure of helping his hero Angus rediscover and reproduce the electronic device responsible for his favorite tone. Since then, Fil has considered it our company mission to help guitarists from every genre of music find their own signature sound.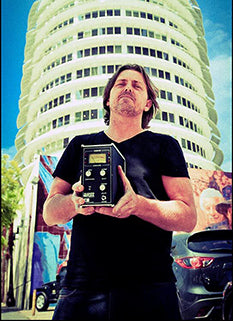 Vice President and Artist Relations - Donny Garrett
Donny Garrett resides in California, the birthplace of the solid body electric guitar and guitar amplifier. Like many of us, his desire to reproduce the guitar tones heard on his favorite recordings led him to discover the world of vintage and boutique musical equipment. The knowledge he gathered along the way led him to author The Tonesmiths Report.

Much like the rest of our team, Donny is a regular contributor to many of the early and current online guitar forums. His love for gear has allowed him to assist many musicians along the way and his innovative approach has provided opportunities to work with some of the industry's most respected artists and musical instrument manufacturers.
Chief Engineer - Dries Potvjin
Dries Potvjin is a resident of Belgium. Dries possesses a rare combination of being a gifted electronics engineer, a consummate perfectionist, retaining an extensive knowledge of vintage circuits, having a keen ear for tone, and being an extremely talented musician.

This perfect synergy of skills makes Dries the engineer of every musical instrument manufacturer's dreams. His unique understanding of the relationship between electronic components, build quality, and tone has helped him to reverse-engineer vintage technology that completely stumped lesser engineers.

Dries is always up to the task of solving technical mysteries for others. Over the years, many musicians on various gear-related forums have benefitted from his knowledge and expertise.
Origin Story
SoloDallas began as an online community dedicated to educating musicians. However, their journey took an unexpected turn after stumbling upon the Schaffer-Vega Diversity System (SVDS) wireless unit, one of the most significant musical relics of the 20th century. This wireless unit was used by some of the most prominent guitar legends, including Angus Young, David Gilmour, and Eddie Van Halen, between 1975 and 1984.

Fil 'SoloDallas' Olivieri, the founder of SoloDallas, who resembled Han Solo and was born in Dallas, TX, became fascinated by the SVDS and set out to reproduce its tone-enhancing effects with the help of its inventor, Ken Schaffer. The reverse-engineering process uncovered a unique combination of interactive circuits, including an optical limiter, compressor, expander, EQ enhancement, harmonic clipping, overdrive, clean boost, and line buffer. This combination of analog effects created what is now known as 'The Schaffer Sound,' revered for its percussive attack, copious harmonics, and singing sustain.

In 2013, SoloDallas unveiled two products that contained the tone-enhancing effects from the SVDS, without the outdated wireless circuit. These products were The Schaffer Replica GT Tower and the TSR pedal, which were widely celebrated by trade magazines and musicians alike. They quickly gained a following of dedicated artists who considered The Schaffer Replica to be an essential part of their signature sound.

SoloDallas continued to innovate and improve upon their initial offerings, releasing The Schaffer Replica EX Tower and the Schaffer Replica Storm pedal in 2016, both of which boasted several improvements over their predecessors. These devices were road-worthy and indistinguishable from the tone and response of the original SVDS unit.

SoloDallas has since released an entire line of superior effects pedals, guitar pickups, and tube amplifiers based on their mission statement, "to rediscover the tone relics of the past and reproduce them for modern musicians." Their list of dedicated artists, guitar techs, producers, and engineers speaks for itself and includes legends of guitar and bass from nearly every genre of music.