The story behind the rediscovery and reproduction of the circuitry within The Schaffer Replica EX Tower is one filled with intrigue, serendipity, and some of the biggest names in music. It all started in 1976 when American inventor Ken Schaffer developed the first commercially viable wireless unit for guitar and bass, the Schaffer-Vega Diversity System (SVDS).

Though his goal was to protect and restore the integrity of instruments throughout the wireless process, his unique combination of an optical limiter+compressor+expander+EQ enhancement+opamp+line buffer resulted in an enriched signal that miraculously improved the sound of electric guitar and bass.
Learn More
EMPHATIC SOLODALLAS ARTISTS
---
featured categories
shop and explore
Siddharth M.
A very versatile pedal retains core tone while enhancing it. There's something going on where I don't ever want to switch it off...This is an always-on pedal.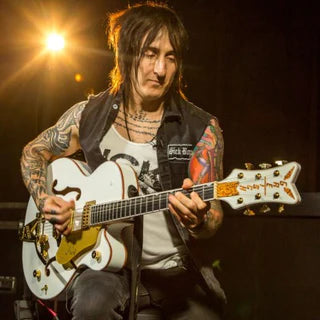 Richard Fortus - Guns N' Roses
The SoloDallas EX Tower is the key to my rig; it's become essential ...everybody freaked out on it when we started using it.
David L
This pedal is clearly a game-changer. Dial it in right & leave it on all the time. Great quality too.

Sean Harvey
I use the SoloDallas Tower. My lead player uses the Storm. We won't go on stage without them.
RJ Silvas
Very satisfied customer here...Ordering and payment were easy. Product arrived within less than two weeks.

Slay805
The best invention in last 20 years hands down seasoned players will go just WOW with the tones you can get with it....
Tor Ivar Johansen - Dirty Deeds
I played a gig in Trondheim with my band Dirty Deeds! I didnt tell the sound Engineer about my new pedal & after the show he asked what kind of dynamite amp I played on!
Morgan
This is one of the few products that I've bought that has lived up to & surpassed any hype. What a GREAT pedal!!!
Guitar Player (February 1984) Angus Young - AC/DC
"Do you use any effects?"
No. I just have a [SoloDallas®] Schaffer-Vega wireless system.
Elliott Randall - Steely Dan
Here's rockin' at you, kid. I'm playing through a [SoloDallas®] Schaffer Replica — a totally magical box!
John Campbell - Lamb of God
This pedal [Bass-X] gives me complete control of the sweetest bit of boost I've ever had my hands on.
Tanner Erickson - Bethel Worship
The Bass-X is a fantastic second stage drive for me...It has tons of power while maintaining clarity and drive. It fits perfectly with what I'm going for. Highly recommended!

Rex Brown - Pantera
The SoloDallas BASS-X is one of my Fave's in my collection of 'Greatest Circuit Pedals' on my board!!...It's old school as F%+k man & a must have now!! Advisable for any style of Jams!!
Dan MacKenzie - Bethel Worship
I tried a dozen fancy things and just couldn't find what I was looking for, until I plugged in the Bass-X. It instantly filled a gap in feel and energy that my ears and fingers were craving.

Rudy Sarzo
For decades I've been trying to get the tone I had with my Shaffer-Vega wireless in the 80s playing live with Ozzy and Quiet Riot. ...Thanks to SoloDallas I finally got my tone back with the Bass-X pedal.
@davidjekyllguitar
This replaced by compressor! ...it responds very well to the guitar volume pots, cleaning up nicely even when stacked into an OD pedal, in a way a compressor never has for me.