28 Aug

My Gear, Story and Sample Sound Test (Sin City)

Hello Solodallas.net Community, my name is Corey and you all probably  know me for jamming with my dad but since Banane and Fil are allowing members to post topics, I decided to do one.

To start off, I'm just going to give you guys a quick summary of how my music career started.I started playing music in 6th grade about 5 years ago (I'm one of the younger members here currently 16 in 11th grade), and I started on the bass. I was young and stupid at the time and thought the bass was stupid, so I quit that and decided to learn the drums. I played the drums for about a year and in the middle of 7th grade I discovered the power of AC/DC… Watching Angus Young as a 12 year old kid blew me away. I discovered AC/DC via the Live at Donnington album and I thought it was the best music known to mankind. Know as I was saying, watching Angus gave me a HUGE desire to learn the guitar and I did. I got myself a summer job at the age of 14 and used all of my money to buy a Marshall MG30FX and an Epiphone SG. I've been playing ever since.I still keep my chops up on the drums though and also play guitar. Currently I play Angus in my AC/DC Tribute Band with my dad, dedicated to the Bon Scott Era.

Now onto my Gear, I still have my same guitar, my mighty Epiphone SG but I have upgraded the bridge pickup just recently to the Gibson Angus Young one. To me, it made my guitar sound like a million bucks. Also, I have a Monster Rock Cable and a trusty Marshall Half Stack that my dad bought for me after we had a death in the family and we got quite a deal on it. I got a Marshall 1959 100W Reissue and the circuit board has been handwired, and a Marshall AVT 4 x 12. Note: Sorry for the blur, I'm not a very good picture taker.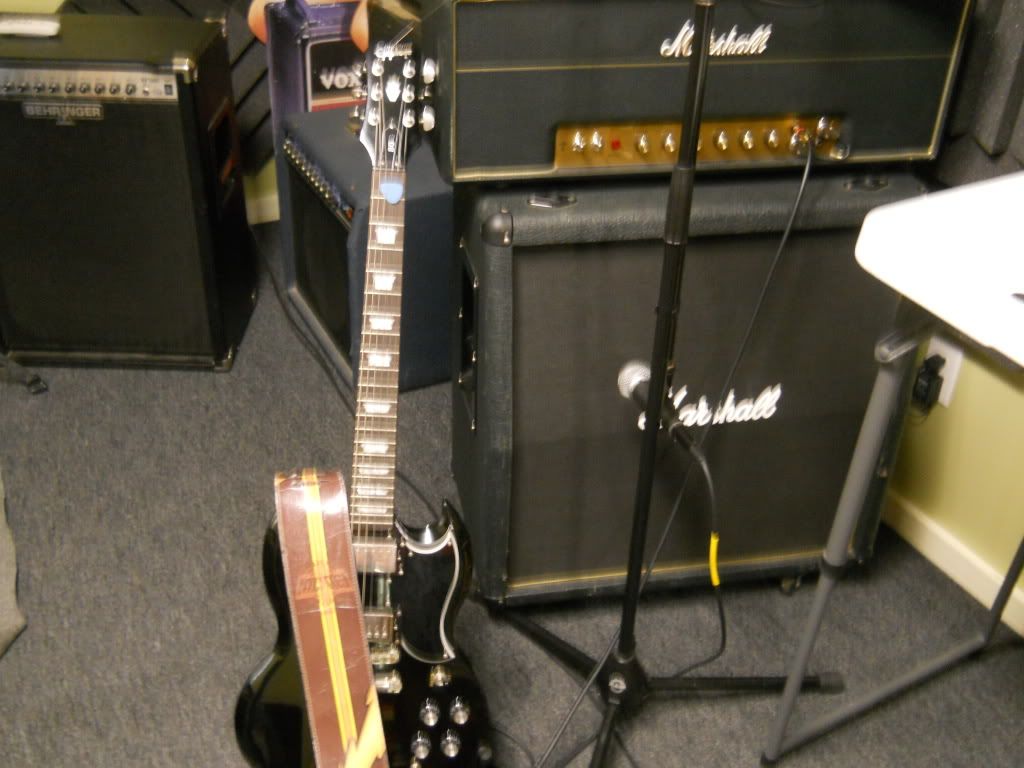 The speakers in it are 25 watts. The speakers are celestions but I'm not sure which kind.I wasn't able to get a picture of the speakers because some of the screws in the back are stripped. So if anyone knows what kind of Celestions the AVT's have, please let me know, I am anxious to know. By the way, I bought the Plexi reissue off of Craigslist for $1200 and $200 for the cabinet.
The mic I use for recording is a Shure SM58.  I placed it about 4 inches away from the top-left speaker pointing it straight at the cone.Here's a better look of it:
Once again, please excuse the bit of blur in the picture. Here's another picture: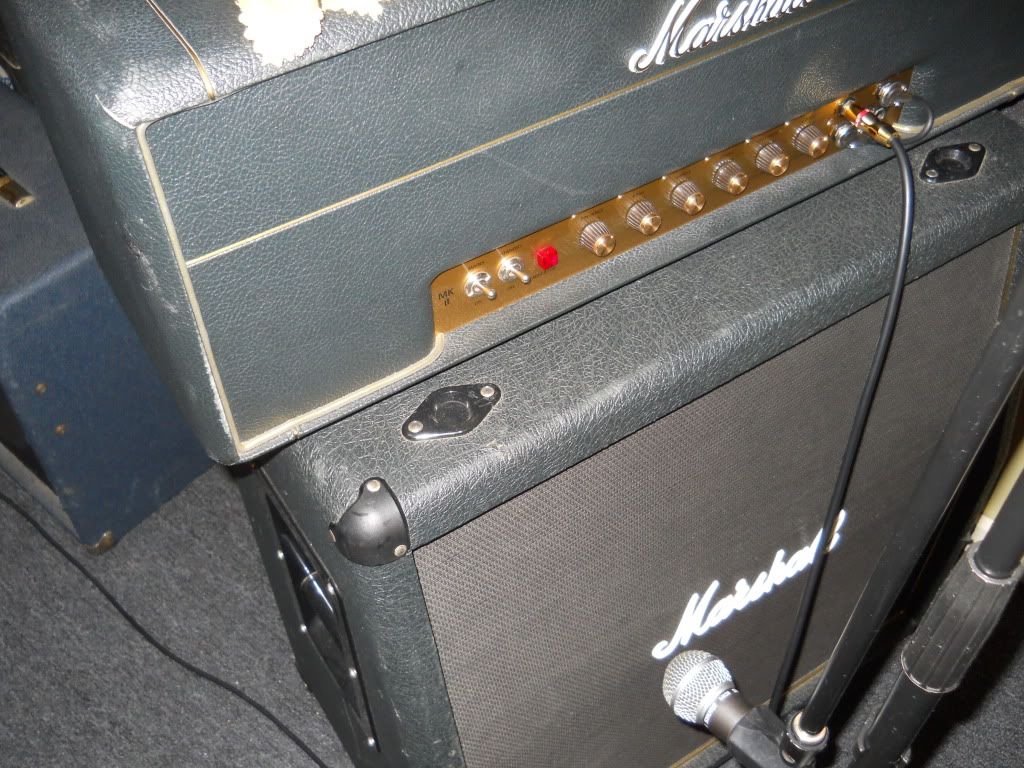 For all the drummers out there, the kit I have is a  TAMA Superstar, well it's actually my dad's but he let's me use it. The kit is about 30 years old, my dad bought it off a guy in New York City back in his "Hey Day's" in the 1980s. If you want me to take some pictures of it I can.Just ask.
Now onto my sound sample that I want you guys to hear, I recorded it using Cubase 5 and my Shure SM58 with the gear listed above. The mic angled just like the pictures as described above and shown in the pictures. The mic ran into our 6 channel mixer which ran into my computer. So the sound goes from my amp, to the mixer, into Cubase. My settings are very simple:
Reverb: 0
Presence: 0
Bass: 5
Treble: 5
Mids: 5
High Treble: 4
Volume: 2
It was loud.These things are monsters as many of you guys know. If I went any higher it would be too distorted and dirty and sound just terrible. This is definitely the best guitar recording tone I have got.My guitar settings are just like Fil's:
Rhythm: 8
Lead: 10
I use a 1 mm Dunlop pick, and 10s for strings. I'm tuned a half step because personally I like the half step tone better than 440, much more raw, and bluesy in my eyes.  The opening lick is double tracked with my rhythm, that's why you will hear a sudden hum change. The lead is on the right, the rhythm on the left. Please note, I did not play the whole track due to lack of bass, drums, and vocals. I would've recorded the drums but our snare drum is acting up and my dad and I are going to try and fix it. I only played up to the break. Hope you enjoy it 🙂 .
Sin City: http://yourlisten.com/channel/content/101533/Sin%20City%20-%20ACDC%20Cover
Let me know what you guys think and if you have any questions just ask, and I am open to criticism.
Keep Rocking,
Corey B.