13 Jan

"Dirty Deeds: My Life Inside and Outside AC/DC" by Mark Evans Review

Hi guys! This is my first post here, so I hope I do everything correctly and my writing is worth reading 😀 Some of the photos are squished a bit right now, maybe Franz or Fil can teach my how to keep that from happening in the future

~headwhop26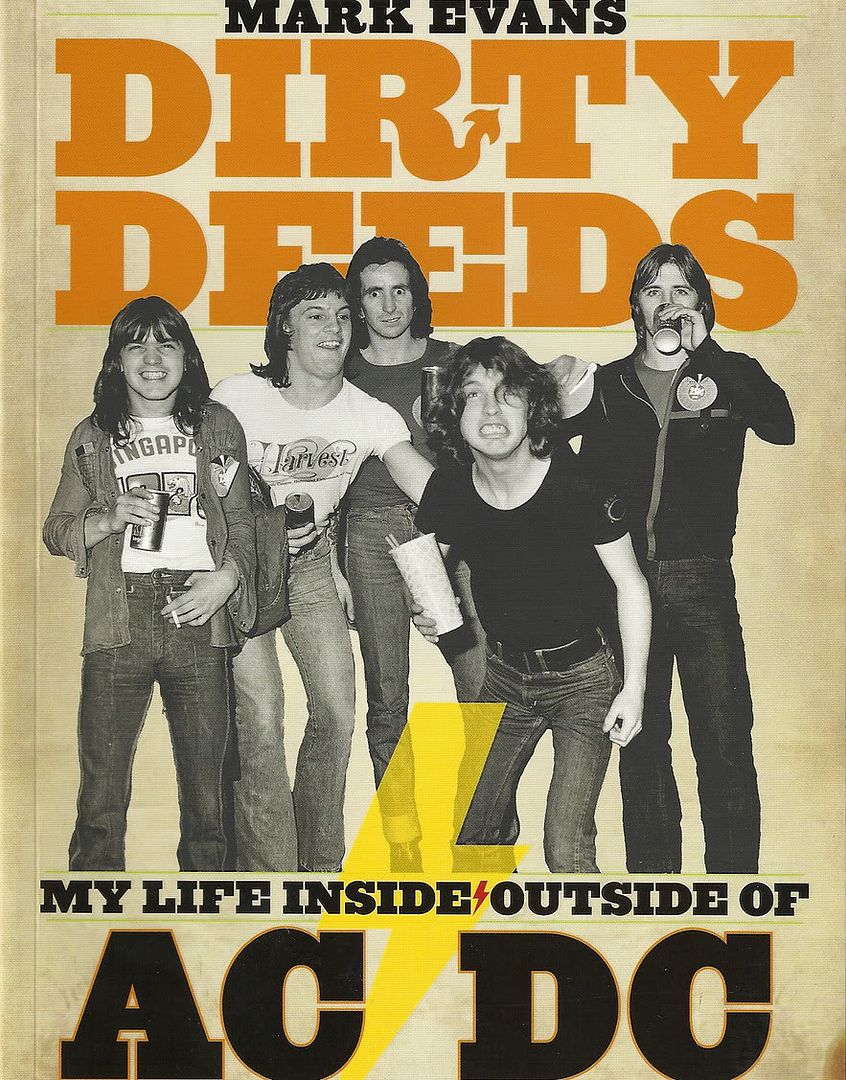 There are countless interviews, paper and video, of Bon Scott, Brian Johnson, and Angus and Malcolm Young telling their stories behind their life in AC/DC, but little exists on early bass player Mark Evans– until now. Mr. Evans has recently published "Dirty Deeds: My Life Inside & Outside of AC/DC," 268 pages of his life, focusing on his time spent with the runaway train that is AC/DC.
Of course, the book is chock-full of the kind of stories you would expect from a book about AC/DC– late night games of pool, adventures in strange towns, back-alley brawls, courting as many ladies as he can– but Mark also touches on his private thoughts throughout the book. Mark begins with his early life in Australia, how he got involved with the band, and even very emotional matters dealing with his father's death from cancer. The sense of humor you would anticipate from a member of AC/DC certainly shows throughout the book, mostly in the hilarious side-note parentheses  that he continually includes in the text. The book is interesting in the fact that it from a position inside AC/DC, most of what we know about the band comes from interviews– Mark was actually a part of it all.
I remember Malcolm saying in an interview that one of the reasons mark didn't stay with the band was because he was too nice, and that becomes rather clear. Mark comes across as a mostly gentle guy with more of an interest in reading than all the other band member combined. Mark gives us a very cool look into how the band really operates on a day-in, day-out schedule, living on cigarettes and tea. He highlights Malcolm's role as the center of the band. Here's a sample:
"After some small talk, more coughing from Angus and another cup of tea, the gear was set up in the hallway and away we went. I had a fair idea what to expect from Phil but was completely unprepared for the Malcolm-and-Angus show. I wasn't that experienced but I knew this was something else. Their guitars drilled into you. It wasn't just about the volume, although a couple of Marshall Super Lead 100-watt heads going hard in a hallway can kick up a fair bit of dust. No, it was their intensity and all-out attack that got me. We were playing the songs from the album but they were way more aggressive than the recording. I found out that Phil had joined after the album was cut and had only been with them a few weeks. That explained some of the extra wallop." -Mark on the Young Brothers, p. 49
The book is a lot of fun to read, and it's a different experience than most of the other AC/DC memoirs/biographies out there. It is available from Bazillion Points Books at dirtydeedsbook.com for about US $20, or from Amazon for US $12.61 at the time of this writing.
ISBN 978-1-935950-04-2
http://www.bazillionpoints.com/dirty-deeds-my-life-insideoutside-of-acdc-by-mark-evans/
(I apologize for the rather grainy/textured quality of the photos, my scanner is not the most impressive)
Any captions that are not in quotes are my own words, all that are in quotations are Mr. Evans's words.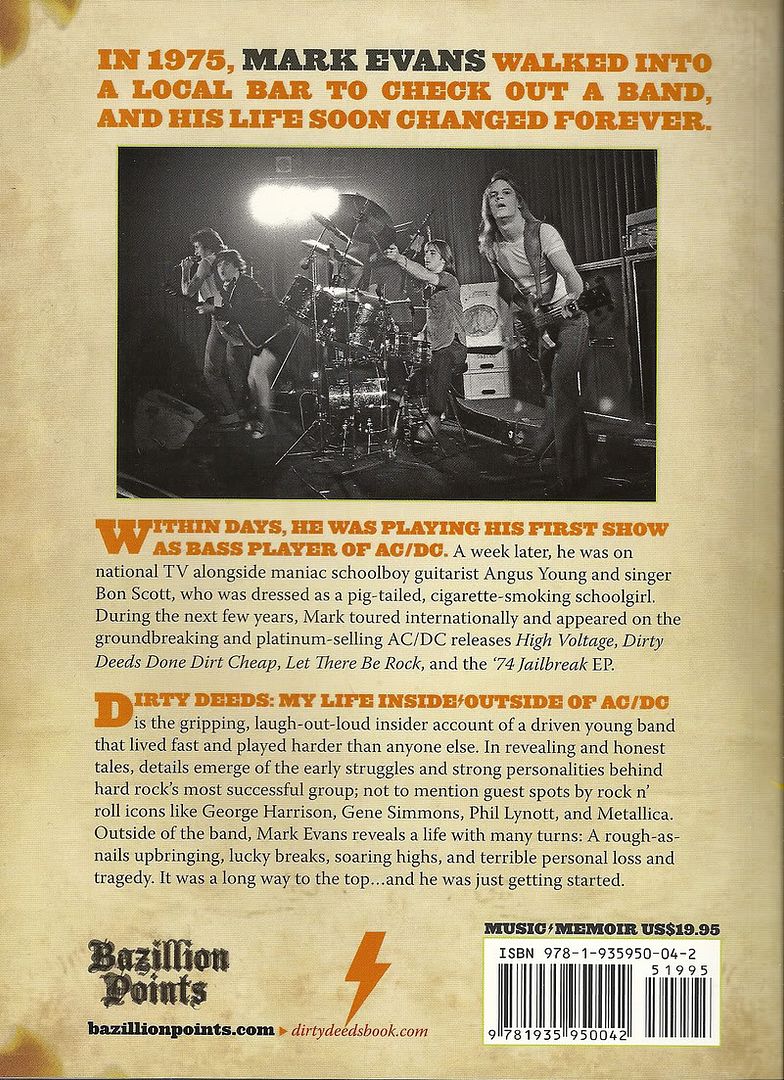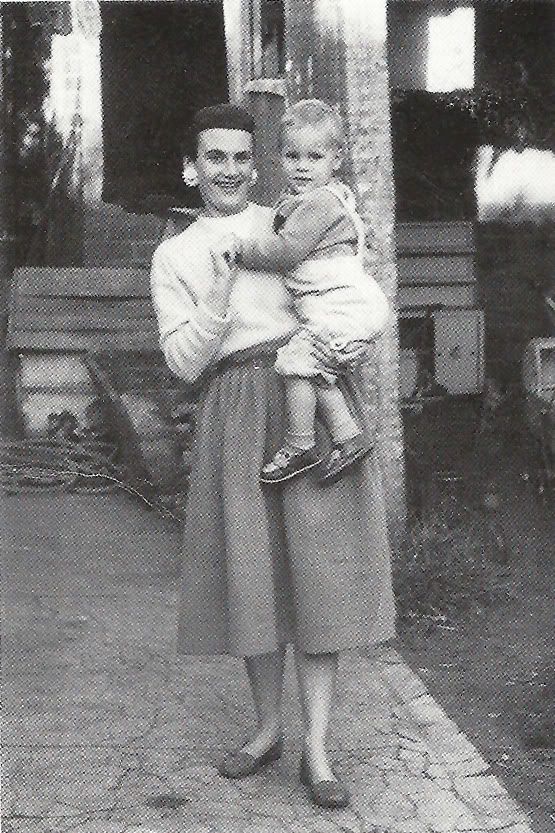 Mark as a toddler, 1958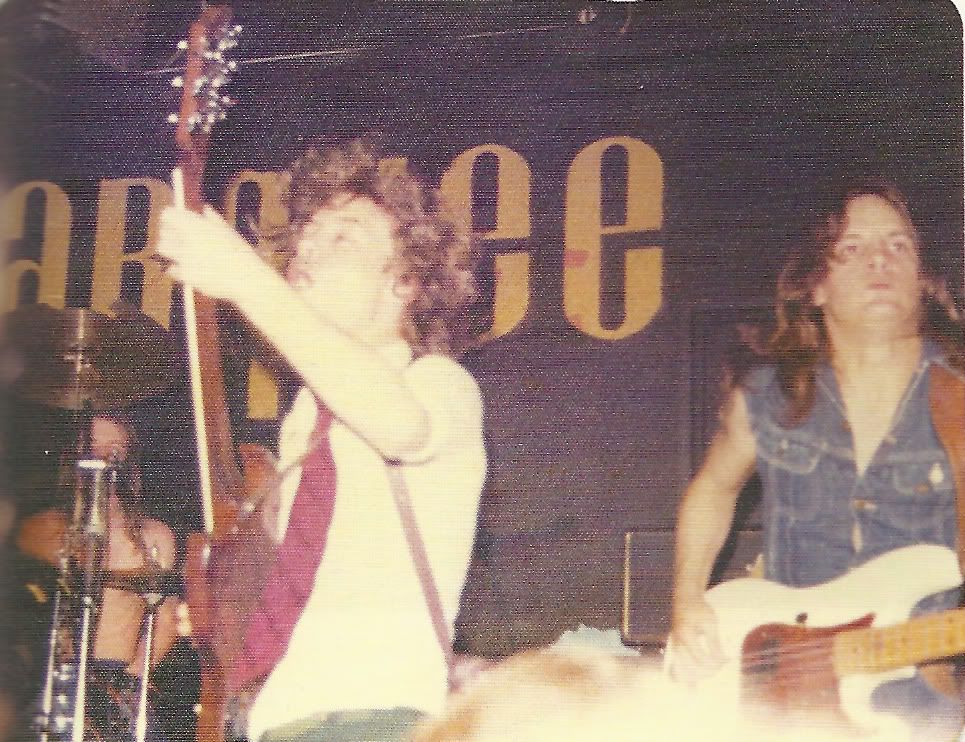 Mark and Angus, The Marquee, August 1976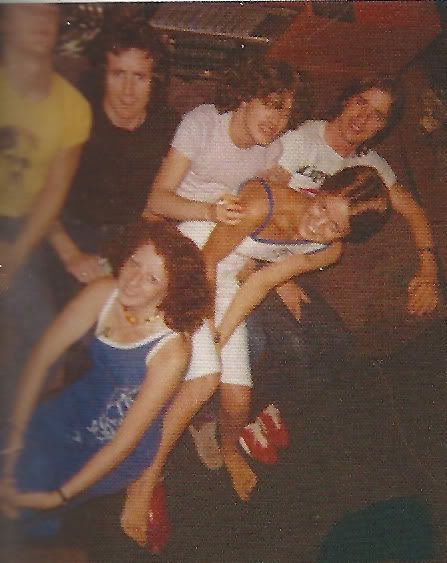 "My favorite sleeping spot, the couch in Albert Studio, invaded by interlopers during the Dirty Deeds Sessions." ~Mark Evans
I thought I would upload this photo simply because it is one of the few of Angus without his SG. Caption: "Angus with his Hagstrom guitar– his Gbson SG took the night off. Hordern Pabilion, Sydney, Australia, December 24, 1975"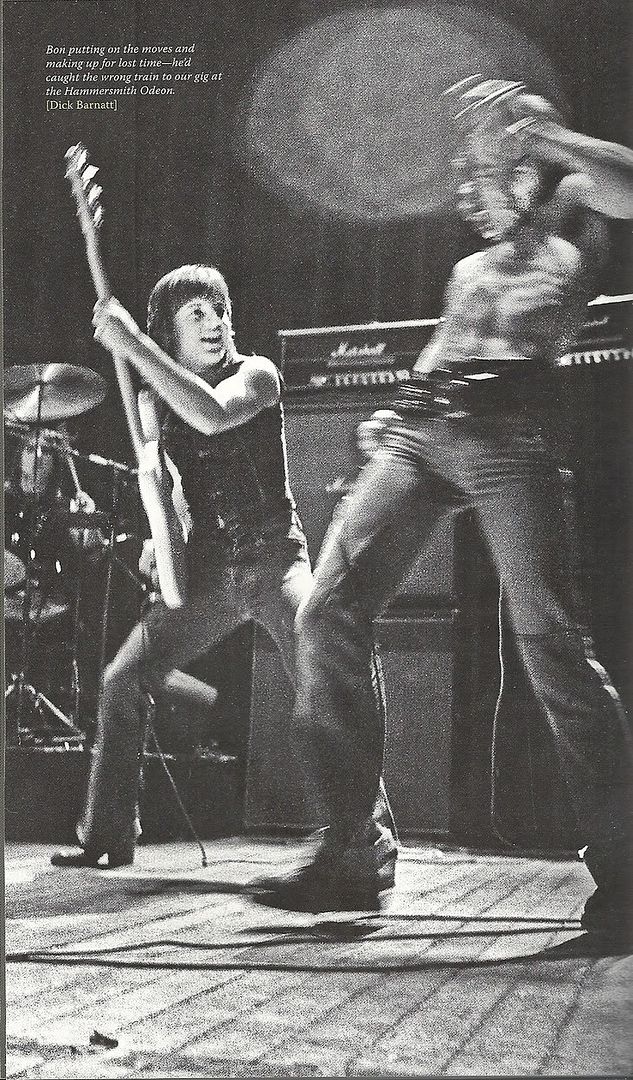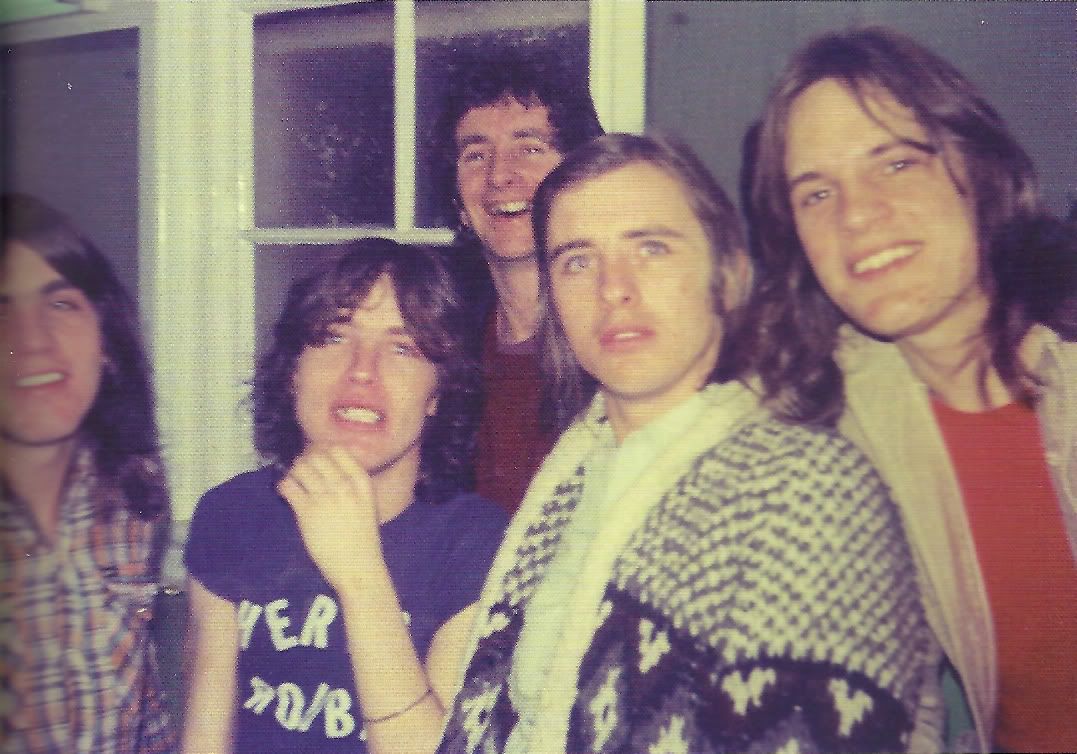 "In the band room, very early days, Melbourne, April 1975."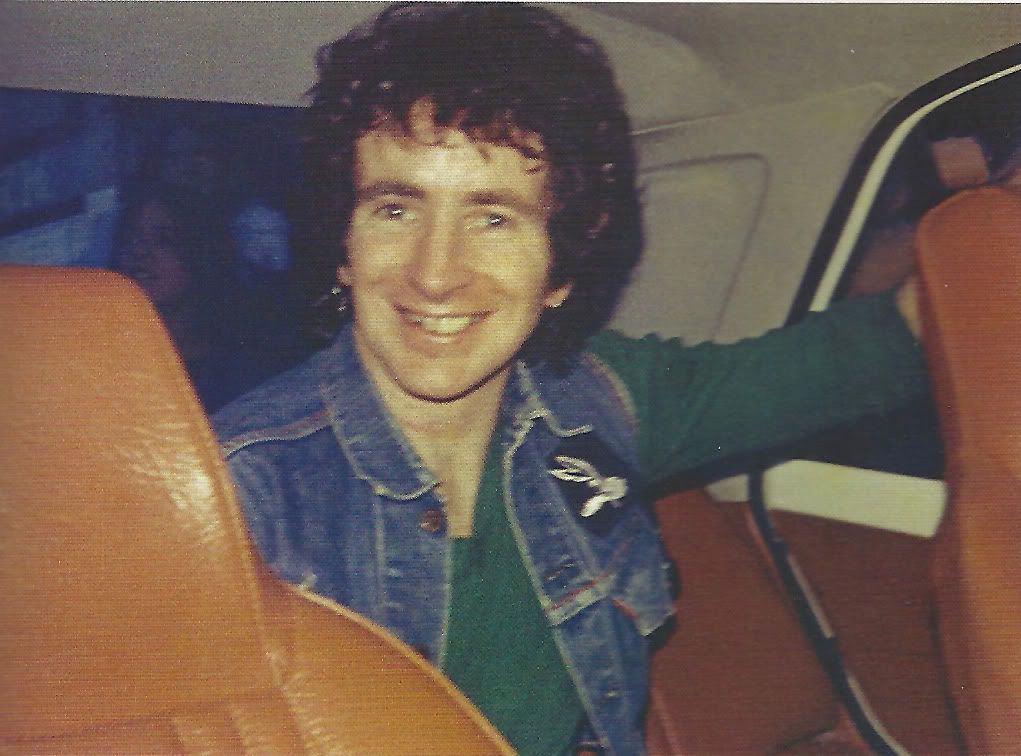 "Bon making a backseat getaway apr'es gig, Melbourne, May 1975. This is my favorite photo of Bon– it captures his personality perfectly. Love the broken smile, one of a kind."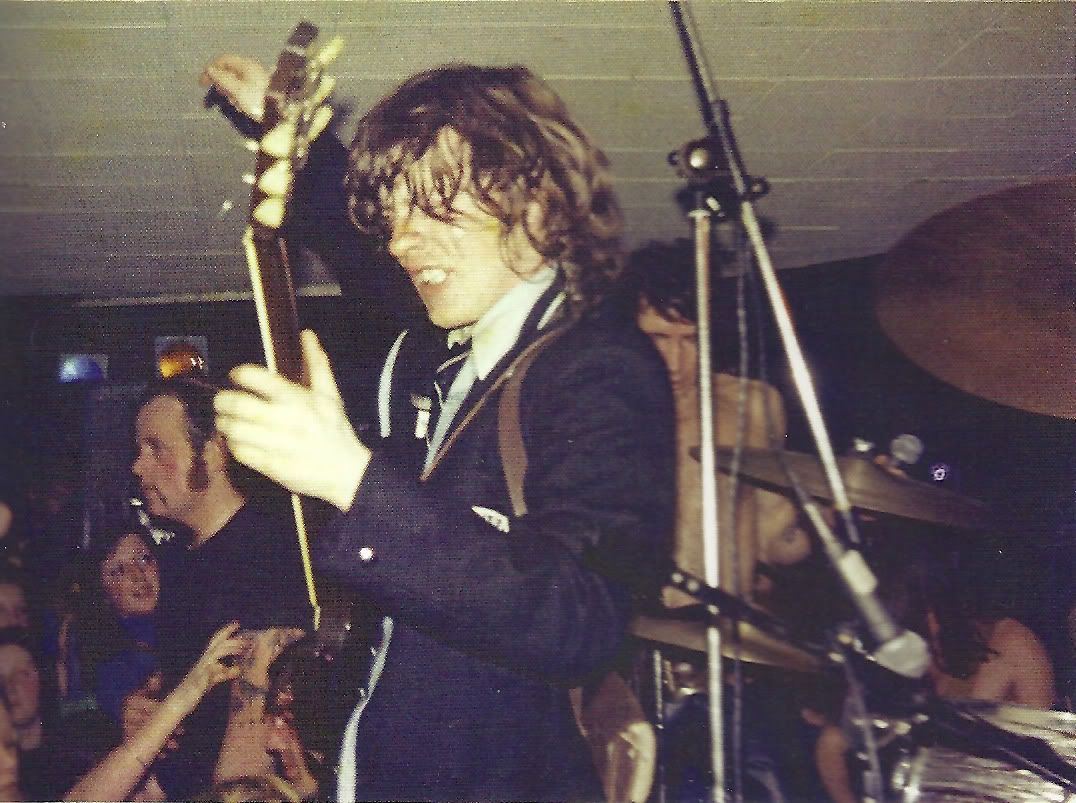 "Angus sweating out at a lunchtime schoolies gig at the Hard Rock Cafe, Melbourne, May 1975"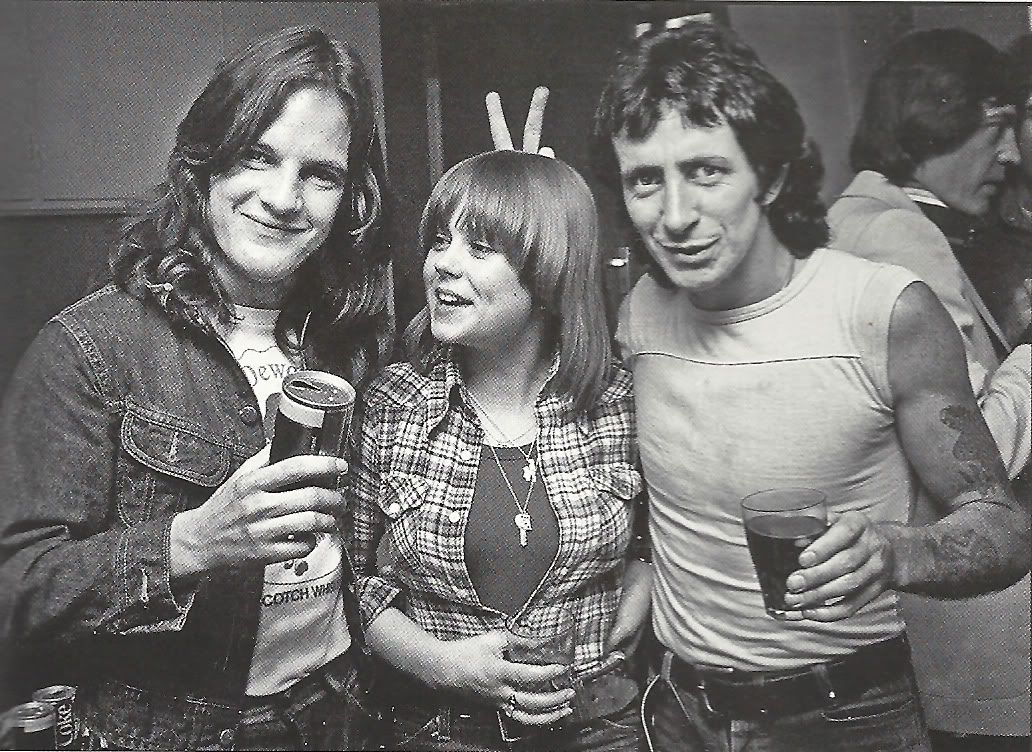 "Getting a warm London welcome at WEA Records: Bon and myself trying a pincer movement on Cherry from the PR department (unsuccessful), April 1976"
Mark has aged pretty well compared to the rest of the band, haha 😀 Thats David Tice to the left.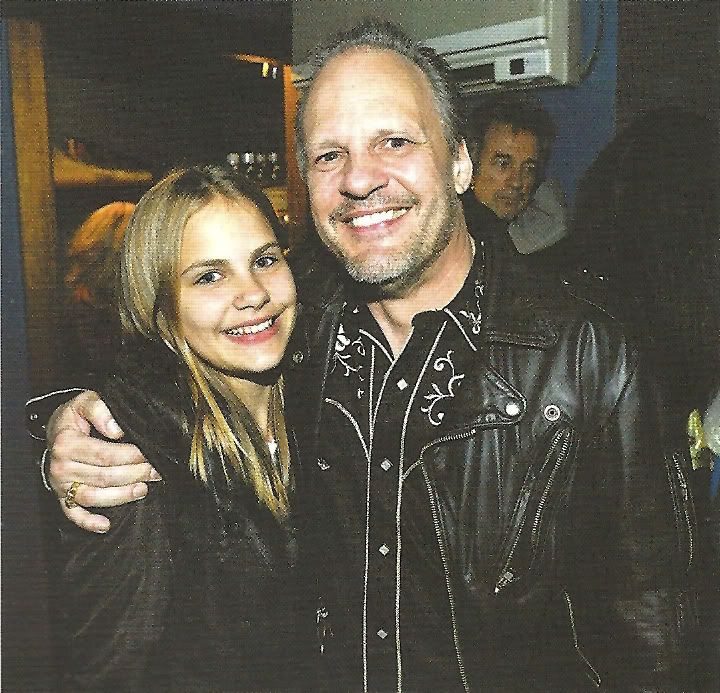 Mark in 2009.