16 Apr

LTBR/'78 Glasgow Tone DEBUNKED! (Updated, shocking)

Update: found this:

[youtube]4TtTe6i2pg0[/youtube]

Would rule out LTBR having been recorded with the Vega. Even Angus confirms that he was given the Vega at the Palladium concert in NY (after recording LTBR).

___________________________________________________________

SUPER UPDATE on the Glasgow (and possibly, LTBR TONE! EDIT: given the above interview, LTBR wouldn't have been recorded with the Vega. The Vega was acquired later).

Hagen: I was wrong. You were right. LOL. I am saying it, LOL.

I had not tried the Vega Recevier boost capability with the 2203 yet; it was you guys suggesting about the 2203 (read in the below update: I had set the Recevier boost ouput to zero db). I have just done it, as I was thinking… if the 2203 is so powerful and trebly, maybe… just maybe…

well,  IT IS (was) A 2203 BOOSTED BY THE VEGA!

We have (talking about Glasgow 1978): pictorial evidence of 2203s for Angus. Pictorial evidence for the Schaffer Vega.

SOUNDS SPOT ON.

Listen. So, there is NO TREBLE BOOST!

Whole Lotta Rosie Glasgow 1978 – VEGA AND 1978 2203

It sounds 10 times better! It's just identical now. Don't you think???




Now, the doubt I have then is that maybe even Let There Be Rock was recorded entirely with a 2203 AND The Vega just arrived? But it is not in accordance with what Bon says, that the first time he saw Angus with it it was at some Palladium concert.

However, we know also that Bon always tried to be sensational, as in, letting the public think that Angus would use the unit the first time Live. It may just not have been so and Angus could have used the Vega in the studio, for the first time, for Let There Be Rock (stay tuned on this).

Will try LTBR with the Vega and see what comes out.

ALL of what comes below is WRONG!!!! I am leaving it for mental honesty and a laugh: there was NO boost at Glasgow. It was Angus' Schaffer Vega with a Marshall 2203.

What turns out as simply amazing though is the fact that… The Vega is wonderful!!!

Definitive settings:

Used:

– 1978 2203 in stock condition. Settings: presence 0. bass 5, mid 5, treble 5, master 6 preamp 6 (very interesting super regular settings!)

– Gibson SG '69 custom with AY sig pickup in bridge; settings: rhythm 8, solo 10

– Vega Wireless; settings: TX at 3 o'clock; RX with rear boost set to +20 db;

Signal path: guitar cable into Vega TX; Vega TX sends to Vega RX; Vega RX boosts +20db and goes into high sensitivity channel 1 in 2203.




________________________________________________________

Please note: all of what you may read from here on, is a crazy man's mental fabrication. You be warned, there is no truth to the following. The truth is above. Thank you, Fil 🙂

Re-did it now.

Well what do you know… IT WAS certainly a 2203. Brightness came in on its own. Amazing. Thanks Jon, George and Rob for pointing this out to me strongly!

Whole Lotta Rosie Live, 2203, Vega Treble Booster

So let's summarize this up for the '78 Glasgow live exclusively for now:

There seems to be a treble booster on Ang's strap, and certainly the sound matches with it. Without it, it's impossible: there are "cranked" frequencies that are plainly audible and can NOT be obtained otherwise.

Used:

– 1978 2203 in stock condition. Settings: presence 0. bass 5, mid 5, treble 5, master 6 preamp 6 (very interesting super regular settings!)

– Gibson SG '69 custom with AY sig pickup in bridge; settings: rhythm 8, solo 10

– Vega Wireless; settings: TX at 3 o'clock; RX with rear boost set to 0 (zero) db; no boost from the Vega here (only on TX)

– a germanium treble booster at 2.5 o'clock

Signal path: guitar cable into treble booster; booster ouput into Vega TX; Vega TX sends to Vega RX; Vega RX into high sensitivity channel 1 in 2203.

End.

Imho, we're there. We're just there.

EDIT: examining Jon's flickr photos, it appears that the box is not silver; might have been a reflection of lights in my first poor image below.

It appers to be a leather black case. Now I am uncertain though. It may be the Vega. If so, this would throw me in more confusion. Although, the treble booster might have been in the back (makes sense anyway). I just hear the booster.

However, how to explain the jack unplugged in Fling/Rocker? I do not know.

Here's Jon's careful research made of accurate screen caps:

Jon's Flickr screen caps from '78 Glasgow

Also, George has terrific images that proove no doubts it's a 2203 (or 3 stager) and likely Schaffer Vegas high antennas all around:

Thanks again to both of you for this terrific job.

EDIT: Jon, it was YOUR screen caps that made me go back to the latest update up above, Thanks man, those grabs are great. It's just that the leather soft case with light reflections made it seem a silver box at first; instead, it's probably a backup TX unit OR a battery pack for the Transmitter inside the guitar!

Help? (about the booster)

____________________________________________________________________

Update: Whole Lotta Rosie attempt from "If You Want Blood, You've Got It" (LIVE 1978).

I was NEVER in my life able to reach this closeness in tone and reaction from the guitar. Used the VEGA and the triboost on Red combined, as it may have been in the video below.

You judge, please?

__________________________________________________

Again, so excited I can barely write.

I am trying to calm down right now.

You read right though: it's done.

You may have read in the past days  – month likely – that I used to think that the LTBR tone was in the Vega.

Well, it is not. Since I had it the other day, I tried everything. Even the rear boost, which is almost the same – in tone and boost level – as the front one.

So I started thinking. And thinking. Did Angus really use a boost on LTBR? He said he never used any "effects". Right.

With the exception of a boost though. He DID use it.

Not only this: but on the "If You Want Blood You've Got It" he also uses in conjunction the Schaffer Vega AND The boost.

Now please follow me closely, as I will demonstrate this to you at first with images and interviews; later on, I will do a sound test.

First off, please concentrate on this screen shot: it's poor, but it's KEY.

Now tell me: what the HECK is THIS? (LOOK AT THE SILVER BOX!!!!)

[singlepic id=477 w=1024 h=768 float=]

(from [youtube]http://www.youtube.com/watch?v=_qB5eQc5V20[/youtube])

For quite some time, I had been thiniing it was the VEGA transmitter.

Right? WRONG. At THIS time, the Vega transmitter HAD BEEN INSTALLED INSIDE THE GUITAR. Earlier video footage show clearly that Angus did NOT have anything attached to his strap; additionally, the output jack of the guitar had been put in another position.

Furthermore, the SHAPE of the transmitter already at the time had the same color and shape of mine.

Proof? Late 1970s actual product shot:

[singlepic id=444 w=1024 h=768 float=]

So WHAT IS IT? Well brother, it's THIS: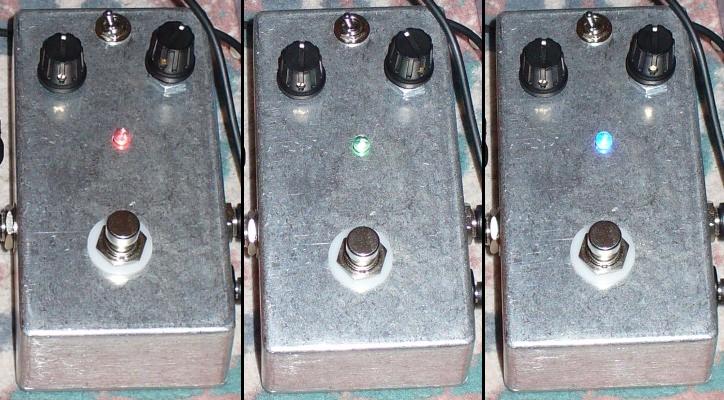 (PLEASE NOTE: these are pictures of the current replica; the original one – still to be indentified exaclty – might have had less knobs, maybe just the stomp switch, as it seems to be the only visible thing there, compatible with a treble boost only: PLEASE RUN and help me research!)
EDIT: Probably FOUND(?). Pete Cornish designed in… 1977 (HA) a mini treble booster for Queen. I think Angus bought one almost immediately.
Picture (look at the silver box, likely without bypass stomp-switch here):
from:
http://www.petecornish.co.uk/queen.html
Quoting:
In 1977 I designed a new miniature version of the TB, with exactly the same characteristics, and this is the one that I am still building – now known, by Queen fans, as the "Original TB-83" and the "TB-83 Extra" (with volume and bypass switch). (The Miniature Single TB and the Double TB Extra are shown on the photo "B. May Old Board + 3X PC TB").

Whatever it was, maybe not that one, but I am almost certain 100% it was a copy of a "Dallas Rangemaster" in a more compact form. Isn't it funny in its name, lol? Basically, it IS a treble boost. Also known widely as "Germanium boost".
So I just opened mine this morning (replica).
It's a well known treble/mid boost of the '70s in a compact form.
Jesus.
Dimesnions match perfectly. Look and compare the size of the box with the strap. I have a similar strap, it just matches perfectly.
Also, possibly, at some point we see an unplugged jack coming off of Angus' in those few "If You Want Blood You've Got it" videos. I think it is on "Fling Ting" that you see an unplugged jack.
I think Angus had the option of using or not using the treble booster.
Whaterver it was, I just plugged this boost into the 1959 WITHOUT the Vega for now, because I wanted to check FIRST LTBR tone. It does match!
So in conclusion: On Let There Be Rock (the album) Angus didn't have the Vega yet.
We DO know this because Bon stated that the first time he had seen Angus with it was into a live situation AFTER the recording of LTBR. We have the interview on one previous post here.
But the above video DOES SHOW that Angus was wireless. Also, there is that box, which just mateches perfectly.
ALSO the TONE on "If You Want Blood" DOES SHOW (audio) that the boost was there. In fact, I had been trying yesterday to re-play "Whole Lotta Rosie" from that album, but I wasn't able to: the Vega alone is too dark to match the tone of "If You Want Blood"!
Jesus I am SO excited.